Judd
Products
Work implements
for ATV's,
Pickups, SUV's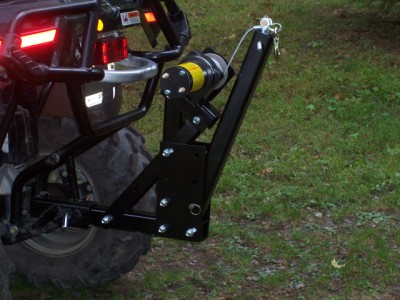 Bale Lifter
| | |
| --- | --- |
| Log Skidder -Use | Log Skidder -Folded |
| Bale Lifter -Down | Bale Lifter -Up |
| Dozer Blade -Drag | Dozer Blade -Push |
| Sod Buster -Rake | Sod Buster -Scraper |
Judd Products produces a line of work implements, primarily designed for ATV's and UTV's. These products are designed to be used with a standard 2-inch, receiver-type hitch mount. The primary product is a heavy duty Log Skidder, which comes standard with a manually-operated winch, or choose the optional, electric power winch. Many accessory products are also available, which use the basic Log Skidder as their mount base and power source.

You can buy a Bale Lifter which can be used to effortlessly lift and transport heavy hay and straw bales. Or, you could buy a heavy duty Dozer Blade which can be easily switched between a pusher or a drag blade simply by pulling a pin, withdrawing the mount and turning the blade around.

Opt for the electric power winch with remote switch, and perform these tasks right from the driver's seat.

Judd Products work implements and attachments also work very well with pickups and SUV's.

Just click on the thumbnails to the right to get a close-up of the product of your choice or, better yet, click on the link buttons and see and read all about these handy tools.







Welcome to the Judd Products Homepage.


Interested in becoming
a Judd Products Dealer or Reseller?
Just click here and let us know.

| Home | About Us | Products | Log Skidder | Bale Lifter | Dozer Blade | Sod Buster | Manuals | Site Map | Contact Us |

Copyright © 2009 MechaGenesis Corporation - All Rights Reserved